Product Summary
The SKM300GB128D is a SPT IGBT module. The applications of the SKM300GB128D include AC inverter drives, UPS, Electronic welders at fsw up to 20 kHz.
Parametrics
SKM300GB128D absolute maximum ratings: (1)VCES: 1200V; (2)IC: 370 (265)A; (3)ICRM: 400A; (4)VGES: ±20V; (5)Tstg: -40 to 150℃; (6)Visol: 4000V.
Features
SKM300GB128D features: (1)homogeneous Si; (2)SPT=Soft-punch-through; (3)VCEsat with positive temperature coefficient; (4)High short circuit capability, self limiting to 6 x Ic.
Diagrams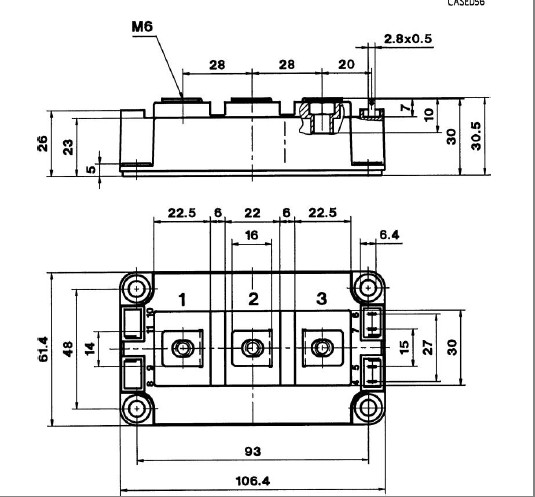 Image
Part No
Mfg
Description
Pricing
(USD)
Quantity

SKM300GB128D

Other



Data Sheet

Negotiable
Image
Part No
Mfg
Description
Pricing
(USD)
Quantity

SKM300GB123D

Other



Data Sheet

Negotiable

SKM300GB124D

Other



Data Sheet

Negotiable

SKM300GB125D

Other



Data Sheet

Negotiable

SKM300GB128D

Other



Data Sheet

Negotiable

SKM30A-05

Mean Well

DC/DC Converters 9-18Vin 5Vout 0.6-6A Iso DC-DC

Data Sheet



| | |
| --- | --- |
| 0-1: | $21.48 |
| 1-10: | $20.08 |
| 10-20: | $18.80 |
| 20-50: | $17.18 |


SKM30A-12

Mean Well

DC/DC Converters 9-18Vin 12Vout 0.25-2.5A Iso DC-DC

Data Sheet



| | |
| --- | --- |
| 0-1: | $21.48 |
| 1-10: | $20.08 |
| 10-20: | $18.80 |
| 20-50: | $17.18 |