Product Summary
The PH150S280-24 is a DC-DC converter. The applications of the PH150S280-24 include Telecom, Custom Power Supplies, Point of Load.
Parametrics
PH150S280-24 absolute maximum ratings: (1)Input range, VDC: 36 to 76V; (2)Output Voltage Adj. Range, VDC: 10.8 to 13.2V; (3)Line Regulation: 0.4% or 20mV; (4)Load Regulation: 0.8% or 40mV; (5)Ripple and Noise, pk-pk: 150mV.
Features
PH150S280-24 features: (1)High Density; (2)Wide Range Input; (3)Output adjustment Capability; (4)Remote On/Off; (5)Fixed Switching Frequency; (6)International Safety Approvals.
Diagrams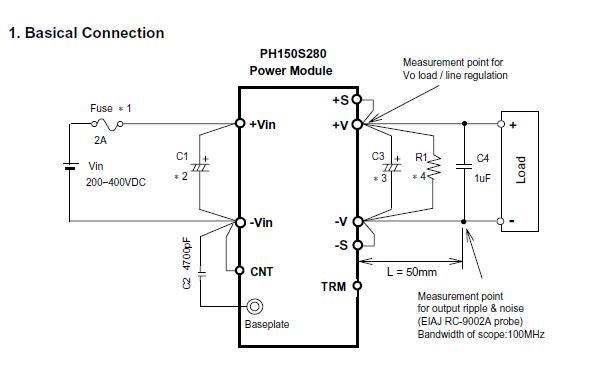 Image
Part No
Mfg
Description
Pricing
(USD)
Quantity

PH150S280-24

TDK-Lambda

DC/DC Converters 100W 24V 6.3A

Data Sheet


Image
Part No
Mfg
Description
Pricing
(USD)
Quantity

PH1503

Weller

Soldering Tools Weller Solder Stand For EC1503 Iron

Data Sheet



PH1504

Other



Data Sheet

Negotiable

PH1508

Other



Data Sheet

Negotiable

PH150F110-12

TDK-Lambda

DC/DC Converters 150W 12V 12.5A

Data Sheet



| | |
| --- | --- |
| 0-1: | $111.00 |
| 1-10: | $97.80 |


PH150F110-15

TDK-Lambda

DC/DC Converters 150W 15V 10A

Data Sheet



| | |
| --- | --- |
| 0-1: | $111.00 |
| 1-10: | $97.80 |


PH150F110-2

TDK-Lambda

DC/DC Converters 60W 2V 30A

Data Sheet



| | |
| --- | --- |
| 0-1: | $111.00 |
| 1-10: | $97.80 |