Product Summary
The MX29LV640ETXEI-70G is a 64M-bit [8M x 8/4M x 16] single voltage flash memory.
Parametrics
MX29LV640ETXEI-70G absolute maximum ratings: (1)Surrounding Temperature with Bias: -65℃ to +125℃; (2)Storage Temperature: -65℃ to +150℃; (3)Voltage Range, Vcc: -0.5 V to +4.0 V; RESET#, A9, ACC and OE#: -0.5 V to +10.5 V; The other pins: -0.5 V to Vcc +0.5 V; (4)Output Short Circuit Current (less than one second): 200 mA.
Features
MX29LV640ETXEI-70G features: (1)8,388,608 x 8 / 4,194,304 x 16 switchable; (2)Sector Structure, 8KB(4KW) x 8 and 64KB(32KW) x 127; (3)Extra 128-word sector for security, Features factory locked and identifiable, and customer lockable; (4)Sector Groups Protection / Chip Unprotect, Provides sector group protect function to prevent program or erase operation in the protected sector group; Provides chip unprotect function to allow code changing; Provides temporary sector group unprotect function for code changing in previously protected sector groups; (5)Single Power Supply Operation, 2.7 to 3.6 volt for read, erase, and program operations; (6)Latch-up protected to 100mA from -1V to 1.5 x Vcc; (7)Low Vcc write inhibit: Vcc <= Vlko; (8)Compatible with JEDEC standard, Pinout and software compatible to single power supply Flash.
Diagrams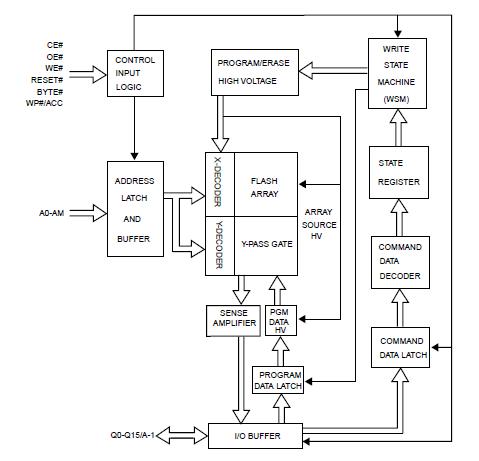 Image
Part No
Mfg
Description
Pricing
(USD)
Quantity

MX29LV640ETXEI-70G



IC FLASH PAR 64MB 70NS 48FBGA

Data Sheet



| | |
| --- | --- |
| 0-1: | $1.45 |
| 1-10: | $1.31 |
| 10-50: | $1.28 |
| 50-100: | $1.15 |
| 100-250: | $1.11 |
| 250-500: | $1.11 |
| 500-1000: | $1.03 |
| 1000-2500: | $1.01 |
| 2500-5000: | $0.93 |

Image
Part No
Mfg
Description
Pricing
(USD)
Quantity

MX29F001B

Other



Data Sheet

Negotiable

MX29F001T

Other



Data Sheet

Negotiable

MX29F001T/B

Other



Data Sheet

Negotiable

MX29F002

Other



Data Sheet

Negotiable

MX29F002N

Other



Data Sheet

Negotiable

MX29F002TTI-12

Other



Data Sheet

Negotiable