Product Summary
The SMBJ5.0A is a transil diode. It designed specifically for protecting sensitive equipment against transient overvoltage. The SMBJ5.0A provides high overvoltage protection by clamping action. The SMBJ5.0A instantaneous response to transient overvoltages makes them particularly suited to protect voltage sensitive devices such as MOS technology and low voltage supplied IC.
Parametrics
SMBJ5.0A absolute maximum ratings: (1)Peak pulse power dissipation (see note 1)Tj initial = Tamb: 600 W; (2)Power dissipation on infinite heatsink Tamb= 50°C: 5 W; (3)Non repetitive surge peak forward current for unidirectional types tp = 10ms Tj initial = Tamb: 100 A; (4)Storage temperature range: - 65 to + 175 °C; (5)Maximumjunction temperature: 150 °C; (6)Maximumlead temperature for soldering during 10 s: 260 °C.
Features
SMBJ5.0A features: (1)Peak pulsepower : 600W(10/1000ms); (2)Stand off voltagerange : from 5V to 188V; (3)UNI andbidirectional types; (4)Low clampingfactor; (5)Fast responsetime; (6)Jedecregistered package outline.
Diagrams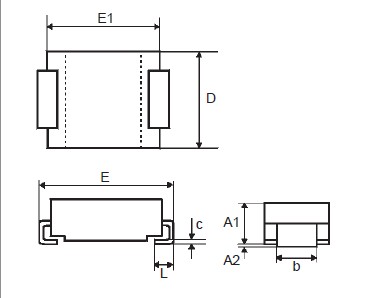 Image
Part No
Mfg
Description
Pricing
(USD)
Quantity

SMBJ5.0A

AVX

TVS Diodes - Transient Voltage Suppressors 5volts 600watts UniDirectional

Data Sheet



| | |
| --- | --- |
| 0-1: | $0.27 |
| 1-100: | $0.19 |
| 100-500: | $0.14 |
| 500-1000: | $0.13 |


SMBJ5.0A R4

Taiwan Semiconductor

TVS Diodes - Transient Voltage Suppressors 5.0V 600W 5% Uni

Data Sheet



| | |
| --- | --- |
| 0-3000: | $0.09 |
| 3000-6000: | $0.08 |


SMBJ5.0A/1

Vishay Semiconductors

TVS Diodes - Transient Voltage Suppressors 600W 5.0V 5% Unidir

Data Sheet

Negotiable

SMBJ5.0A/2

Vishay Semiconductors

TVS Diodes - Transient Voltage Suppressors 600W 5.0V 5% Uni

Data Sheet

Negotiable

SMBJ5.0A/5

Vishay Semiconductors

TVS Diodes - Transient Voltage Suppressors 600W 5.0V 5% Uni

Data Sheet

Negotiable

SMBJ5.0A/2B

Vishay Semiconductors

TVS Diodes - Transient Voltage Suppressors 600W 5.0V 5% Uni

Data Sheet

Negotiable

SMBJ5.0A-13-F

Diodes Inc.

TVS Diodes - Transient Voltage Suppressors 600W 5.0V

Data Sheet



| | |
| --- | --- |
| 0-1: | $0.58 |
| 1-10: | $0.52 |
| 10-100: | $0.41 |
| 100-250: | $0.36 |


SMBJ5.0A-7P

Micro Commercial Components (MCC)

TVS Diodes - Transient Voltage Suppressors 5V 600 Watts

Data Sheet

Negotiable