Product Summary
The CM300DY-28H is a high power switching use IGBT module. The CM300DY-28H is designed for use in switching applications. Each module consists of two IGBTs in a half-bridge configuration with each transistor having a reverse-connected super-fast recovery free-wheel diode. All components and interconnects are isolated from the heat sinking base plate, offering simplified system assembly and thermal management. The applications of the CM300DY-28H include AC Motor Control, Motion/Servo Control, UPS and Welding Power Supplies.
Parametrics
CM300DY-28H absolute maximum ratings: (1)Junction Temperature: –40 to 150 ℃; (2)Storage Temperature: –40 to 125 ℃; (3)Collector-Emitter Voltage (G-E SHORT): 1400 V; (4)Gate-Emitter Voltage (C-E SHORT): ±20 V; (5)Collector Current (TC = 25°C): 300 A; (6)Peak Collector Current: 600 A; (7)Emitter Current (TC = 25℃): 300 A; (8)Peak Emitter Current: 600 A; (9)Maximum Collector Dissipation: 2100 W; (10)Weight: 500 G.
Features
CM300DY-28H features: (1)Low Drive Power; (2)Low VCE(sat); (3)Discrete Super-Fast Recovery Free-Wheel Diode; (4)High Frequency Operation; (5)Isolated Base plate for Easy Heat Sinking.
Diagrams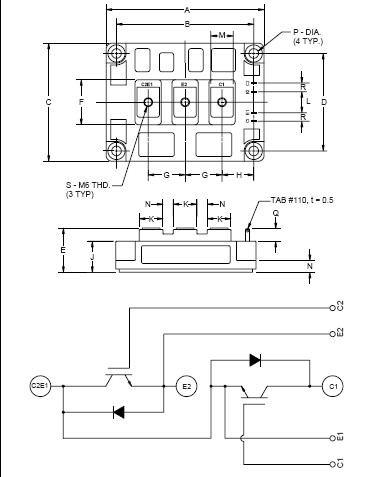 Image
Part No
Mfg
Description
Pricing
(USD)
Quantity

CM300DY-28H



IGBT MOD DUAL 1400V 300A H SER

Data Sheet

Negotiable
Image
Part No
Mfg
Description
Pricing
(USD)
Quantity

CM3002

Other



Data Sheet

Negotiable

CM300DU-12F



IGBT MOD DUAL 600V 300A F SER

Data Sheet



CM300DU-12H



IGBT MOD DUAL 600V 300A U SER

Data Sheet



CM300DU-24H



IGBT MOD DUAL 1200V 300A U SER

Data Sheet



CM300DU-24NFH



IGBT MOD DUAL 1200V 300A NFH SER

Data Sheet



| | |
| --- | --- |
| 0-1: | $143.57 |
| 1-10: | $136.64 |
| 10-100: | $128.72 |
| 100-250: | $126.74 |
| 250-500: | $123.77 |
| 500-1000: | $118.81 |


CM300DU-34KA



IGBT MOD DUAL 1700V 300A KA SER

Data Sheet