Product Summary
The PAF600F280-24 is a 200V to 400VDC Input Full brick DC-DC Converter.
Parametrics
PAF600F280-24 general specifications: (1)Input Voltage Range: 200-400VDC; (2)Output Voltage Accuracy: ±1%; (3)Output Voltage Adjustment: 28.8 - 57.6VDC; (4)Max Ripple & Noise: 480mV; (5)Max Line Regulation: 96mV; (6)Max Load Regulation: 96mV; (7)Temperature Coeffi cient: 0.02%/°C; (8)Overcurrent Protection: 105 - 140%; (9)Overvoltage Protection: 125 - 145%.
Features
PAF600F280-24 features: (1)Output Voltages from 7.2V to 57V; (2)450W to 600W Output Power; (3)Current Share; (4)Operation to 100°C Baseplate; (5)Wide Adjustable Output Range; (6)Parallel Pin; (7)High Effi ciency - up to 91%.
Diagrams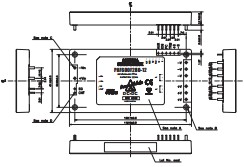 Image
Part No
Mfg
Description
Pricing
(USD)
Quantity

PAF600F280-24

TDK-Lambda

DC/DC Converters 600W 24V 25A

Data Sheet



| | |
| --- | --- |
| 0-1: | $132.00 |
| 1-10: | $127.20 |


PAF600F280-24/T

TDK-Lambda

DC/DC Converters 600W 24V 25A

Data Sheet



| | |
| --- | --- |
| 0-1: | $132.00 |
| 1-10: | $127.20 |