Product Summary
The AD706JRZ is a dual, low power, bipolar op amp that has the low input bias current of a BiFET amplifier, but which offers a significantly lower IB drift over temperature. It utilizes superbeta bipolar input transistors to achieve picoampere input bias current levels (similar to FET input amplifiers at room temperature), while its IB typically only increases by 5× at 125℃ (unlike a BiFET amp, for which IB doubles every 10℃ for a 1000× increase at 125℃). The AD706JRZ also achieves the microvolt offset voltage and low noise characteristics of a precision bipolar input amplifier.
Parametrics
AD706JRZ absolute maximum ratings: (1)Supply Voltage: ±18 V; (2)Internal Power Dissipation (Total: Both Amplifiers): 650 mW; (3)Input Voltage: ±VS; (4)Differential Input Voltage3: +0.7 Volts; (5)Output Short Circuit Duration: Indefinite; (6)Storage Temperature Range (Q): –65℃ to +150℃; (7)Storage Temperature Range (N, R): –65℃ to +125℃; (8)Operating Temperature Range: 0℃ to +70℃; (9)Lead Temperature (Soldering 10 secs): +300℃.
Features
AD706JRZ features: (1)high DC precision: 50 μV max Offset Voltage, 0.6 μV/℃ max Offset Drift, 110 pA max Input Bias Current; (2)low noise: 0.5 μV p-p Voltage Noise, 0.1 Hz to 10 Hz; (3)low power: 750 μA Supply Current; (4)Available in 8-Lead Plastic Mini-DlP, Hermetic Cerdip and Surface Mount (SOIC) Packages; (5)Available in Tape and Reel in Accordance with EIA-481A Standard; (6)Single Version: AD705, Quad Version: AD704.
Diagrams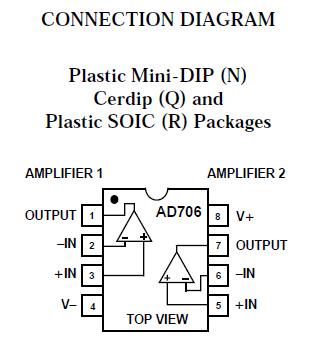 Image
Part No
Mfg
Description
Pricing
(USD)
Quantity

AD706JRZ



IC OPAMP GP DUAL PREC 15MA 8SOIC

Data Sheet



| | |
| --- | --- |
| 0-1: | $3.35 |
| 1-10: | $3.00 |
| 10-100: | $2.46 |
| 100-250: | $2.22 |
| 250-500: | $1.99 |
| 500-1000: | $1.68 |
| 1000-2500: | $1.60 |


AD706JRZ-REEL



IC OPAMP GP DUAL PREC 15MA 8SOIC

Data Sheet



AD706JRZ-REEL7



IC OPAMP GP DUAL PREC 15MA 8SOIC

Data Sheet