Product Summary
The TPS79401DGNT is a low-dropout (LDO) low-power linear voltage regulator features high power-supply rejection ratio (PSRR), ultralow-noise, fast start-up, and excellent line and load transient responses in NanoStar wafer chip scale and SOT23 packages. NanoStar packaging gives an ultrasmall footprint as well as an ultralow profile and package weight, making it ideal for portable applications such as handsets and PDAs. The applications of the TPS79401DGNT include RF: VCOs, Receivers, ADCs, Audio, Cellular and Cordless Telephones, Bluetooth, Wireless LAN, Handheld Organizers, PDAs.
Parametrics
TPS79401DGNT absolute maximum ratings: (1)Input voltage range: -0.3 V to 6 V; (2)Voltage range at EN: -0.3 V to VI + 0.3 V; (3)Voltage on OUT: -0.3 V to 6 V; (4)Peak output current: Internally limited; (5)ESD rating, HBM: 2 kV; (6)ESD rating, CDM: 500 V; (7)Continuous total power dissipation: See Dissipation Rating Table; (8)Operating virtual junction temperature range, TJ: -40℃ to 150℃; (9)Operating ambient temperature range, TA: -40℃ to 85℃; (10)Storage temperature range, Tstg: -65℃ to 150℃.
Features
TPS79401DGNT features: (1)250-mA RF Low-Dropout Regulator With Enable; (2)Available in 1.8-V, 2.5-V, 2.8-V, 2.85-V, 3-V, 3.3-V, 4.75-V, and Adjustable (1.2-V to 5.5-V); (3)High PSRR (60 dB at 10 kHz); (4)Ultralow-Noise (32 μVRMS, TPS79428); (5)Fast Start-Up Time (50 μs); (6)Stable With a 2.2-μF Ceramic Capacitor; (7)Excellent Load/Line Transient Response; (8)Very Low Dropout Voltage (155 mV at Full Load); (9)Available in MSOP-8 and SOT223-6 Packages.
Diagrams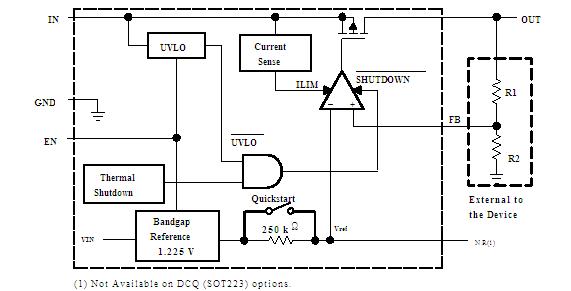 Image
Part No
Mfg
Description
Pricing
(USD)
Quantity

TPS79401DGNTG4

Texas Instruments

Low Dropout (LDO) Regulators High PSRR Fast RF High-Enable 250-mA

Data Sheet



| | |
| --- | --- |
| 0-1: | $1.26 |
| 1-25: | $1.01 |
| 25-100: | $0.90 |
| 100-250: | $0.63 |


TPS79401DGNT

Texas Instruments

Low Dropout (LDO) Regulators High PSRR Fast RF High-Enable 250-mA

Data Sheet



| | |
| --- | --- |
| 0-1: | $1.35 |
| 1-25: | $1.13 |
| 25-100: | $0.90 |
| 100-250: | $0.63 |