Product Summary
The TLV70028DCKR is a low dropout (LDO) linear regulator. The TLV70028DCKR is low quiescent current device with excellent line and load transient performance. Furthermore, the TLV70028DCKR is stable with an effective output capacitance of only 0.1 mF. This feature enables the use of cost-effective capacitors that have higher bias voltages and temperature derating. The devices regulate to specified accuracy with no output load. Applications are (1)Wireless Handsets; (2)Smart Phones, PDAs SON-6, TSOT23-5, and SC-70; (3)MP3 Players packages; (4)ZigBee® Networks available in a 1,5-mm x 1,5-mm SON-6; (5)Bluetooth Devices space; (6)Li-Ion Operated Handheld Products; (7)WLAN and Other PC Add-on Cards.
Parametrics
TLV70028DCKR absolute maximum ratings: (1)Input voltage range, VIN: -3.3 to +6.0 V; (2)Enable voltage range, VEN: -3.3 to +6.0 V; (3)Output voltage range, VOUT: -3.3 to +6.0 V; (4)Maximum output current, IOUT: Internally limited; (5)Output short-circuit duration: Indefinite; (6)Operating junction temperature range, TJ:-55 to +150 ℃ (7)Storage temperature range, TSTG: -55 to +150 ℃.
Features
TLV70028DCKR features: (1)very low dropout; (2)2% accuracy; (3)low IQ; (4)available in fixed-output voltages from 0.7V to 4.8V; (5)high PSRR: 68dB at 1kHz; (6)stable with effective capacitance of 0.1μF; (7)thermal shutdown and overcurrent protection.
Diagrams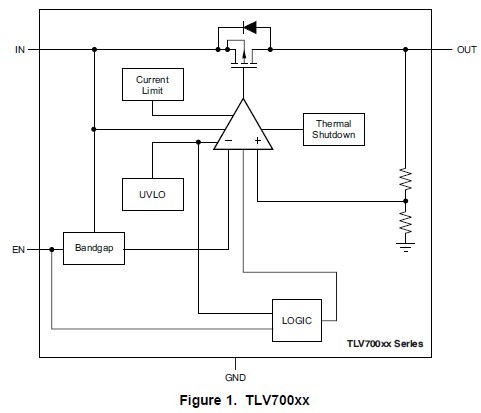 Image
Part No
Mfg
Description
Pricing
(USD)
Quantity

TLV70028DCKR

Texas Instruments

Low Dropout (LDO) Regulators 200mA Low IQ LDO Reg for Portables

Data Sheet



| | |
| --- | --- |
| 0-1: | $0.25 |
| 1-25: | $0.20 |
| 25-100: | $0.17 |
| 100-250: | $0.15 |

Image
Part No
Mfg
Description
Pricing
(USD)
Quantity

TLV70012DCKR

Texas Instruments

Low Dropout (LDO) Regulators 200mA,Lo IQ,LDO Reg

Data Sheet



| | |
| --- | --- |
| 0-1: | $0.25 |
| 1-25: | $0.20 |
| 25-100: | $0.17 |
| 100-250: | $0.15 |


TLV70012DDCR

Texas Instruments

Low Dropout (LDO) Regulators 200mA,Low IQ,LDO Reg

Data Sheet



| | |
| --- | --- |
| 0-1: | $0.25 |
| 1-25: | $0.20 |
| 25-100: | $0.17 |
| 100-250: | $0.15 |


TLV70012DSER

Texas Instruments

Low Dropout (LDO) Regulators 200mA Low IQ LDO Reg

Data Sheet



| | |
| --- | --- |
| 0-1: | $0.38 |
| 1-25: | $0.30 |
| 25-100: | $0.26 |
| 100-250: | $0.21 |


TLV70012QDDCRQ1

Texas Instruments

Low Dropout (LDO) Regulators AC 200mA,Low IQ,LDO Reg

Data Sheet



| | |
| --- | --- |
| 0-1: | $0.29 |
| 1-25: | $0.23 |
| 25-100: | $0.20 |
| 100-250: | $0.18 |


TLV70015DCKT

Texas Instruments

Low Dropout (LDO) Regulators 200mA Low IQ LDO Reg for Portables

Data Sheet



| | |
| --- | --- |
| 0-1: | $0.40 |
| 1-25: | $0.28 |
| 25-100: | $0.24 |
| 100-250: | $0.17 |


TLV70018DCKR

Texas Instruments

Low Dropout (LDO) Regulators 200mA Low IQ LDO Reg for Portables

Data Sheet



| | |
| --- | --- |
| 0-1: | $0.38 |
| 1-25: | $0.29 |
| 25-100: | $0.26 |
| 100-250: | $0.23 |