Product Summary
The TLV320DAC32IRHBT is a low power stereo audio DAC with and integrated power amplifier designed to drive stereo headphones or speakers. The TLV320DAC32IRHBT also has a pair of analog inputs which allow routing of external signals to the output amplifiers. The playback path includes a mix/mux capability from the stereo DAC and analog inputs, through programmable volume controls, to the headphone outputs. Extensive register-based power control is included, enabling stereo 96-kHz playback as low as 20mW from a 3.3-V analog supply, making it ideal for portable battery-powered audio and telephony applications.
Parametrics
TLV320DAC32IRHBT absolute maximum ratings: (1)AVDD_DAC to AVSS_DAC, DRVDD to DRVSS: -0.3 to 3.9 V; (2)AVDD_DAC to DRVSS: -0.3 to 3.9 V; (3)IOVDD to IOVSS: -0.3 to 3.9 V; (4)DVDD to IOVSS: -0.3 to 2.5 V; (5)AVDD_DAC to DRVDD: -0.1 to 0.1 V; (6)Digital input voltage to IOVSS: -0.3 V to IOVDD+0.3 V; (7)Analog input voltage to AVSS_DAC: -0.3 V to AVDD_DAC+0.3 V; (8)Operating temperature range: -40 to +85℃; (9)Storage temperature range: -65 to +105℃; (10)TJ Max Junction temperature: 105℃; (11)Power dissipation: (TJ Max – TA)/θJA; (12)θJA Thermal impedance: 44℃/W.

Features
TLV320DAC32IRHBT features: (1)Stereo Audio DAC, 95-dBA Signal-to-Noise Ratio; 95-dBA Signal-to-Noise Ratio; Supports Rates From 8 kHz to 96 kHz; 3D/Bass/Treble/EQ/De-emphasis Effects; (2)Two Audio Input Pins, Two Audio Input Pins; (3)Four Audio Output Drivers, Four Audio Output Drivers Capability; Capability Headphone Drivers; (4)Low Power: 18-mW Stereo 48-kHz Playback Low Power: 18-mW Stereo 48-kHz Playback; (5)Programmable Input/Output Analog Gains; (6)Programmable Microphone Bias Level; (7)Headphone Jack Detection; (8)Programmable PLL for Flexible Clock Generation; (9)I2C Control Bus; (10)Audio Serial Data Bus Supports I2S, Left/Right-Justified, DSP, and TDM Modes; (11)Extensive Modular Power Control; (12)Internal Selectable LDO Allows Operation From Single 3.3-V Supply; (13)Power Supplies: Analog: 2.7 V–3.6 V; Digital Core: 1.525 V–1.95 V; Digital I/O: 1.1 V–3.6 V; (14)Package: 5 × 5 mm 32-QFN.
Diagrams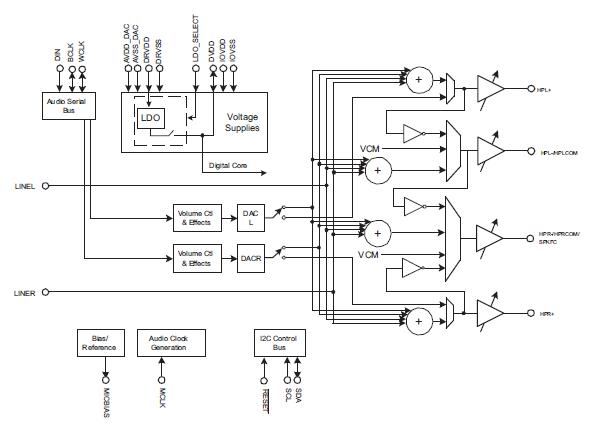 Image
Part No
Mfg
Description
Pricing
(USD)
Quantity

TLV320DAC32IRHBT

Texas Instruments

Audio D/A Converter ICs Low Power Stereo DAC

Data Sheet



| | |
| --- | --- |
| 0-1: | $2.68 |
| 1-25: | $2.15 |
| 25-100: | $1.90 |
| 100-250: | $1.72 |


TLV320DAC32IRHBTG4

Texas Instruments

Audio D/A Converter ICs Low Power Stereo DAC

Data Sheet



| | |
| --- | --- |
| 0-1: | $1.86 |
| 1-25: | $1.49 |
| 25-100: | $1.24 |
| 100-250: | $1.21 |