Product Summary
The STM32F105R8T6 is an Analog to Digital Converter. The STM32F105R8T6 incorporates the highperformance ARM® Cortex™-M3 32-bit RISC core operating at a 72 MHz frequency, highspeed embedded memories (Flash memory up to 256 Kbytes and SRAM up to 64 Kbytes), and an extensive range of enhanced I/Os and peripherals connected to two APB buses. All devices offer two 12-bit ADCs, four general-purpose 16-bit timers plus a PWM timer, as well as standard and advanced communication interfaces: up to two I2Cs, three SPIs, two I2Ss, five USARTs, an USB OTG FS and two CANs. Ethernet is available on the STM32F105R8T6 only. The STM32F105R8T6 operates in the –40 to +105℃ temperature range, from a 2.0 to 3.6 V power supply. A comprehensive set of power-saving mode allows the design of low-power applications. The STM32F105R8T6 offers devices in two different package types: from 64 pins to 100 pins. Depending on the device chosen, different sets of peripherals are included, the description below gives an overview of the complete range of peripherals proposed in this family.
Parametrics
STM32F105R8T6 absolute maximum ratings: (1)External main supply voltage (including VDDA and VDD): -0.3 to 4.0 V; (2)Input voltage on five volt tolerant pin: VSS-0.3 to +5.5 V; (3)Variations between different VDD power pins: 50 mV; (4)Total current into VDD/VDDA power lines (source): 150 mA; (5)Output current sunk by any I/O and control pin: 25 mA.
Features
STM32F105R8T6 features: (1)72 MHz maximum frequency, 1.25 DMIPS/MHz (Dhrystone 2.1) performance at 0 wait state memory access; (2)Single-cycle multiplication and hardware division; (3)64 to 256 Kbytes of Flash memory; (4)up to 64 Kbytes of general-purpose SRAM; (5)2.0 to 3.6 V application supply and I/Os; (6)POR, PDR, and programmable voltage detector (PVD); (7)3-to-25 MHz crystal oscillator; (8)Internal 8 MHz factory-trimmed RC; (9)Internal 40 kHz RC with calibration; (10)32 kHz oscillator for RTC with calibration; (11)Sleep, Stop and Standby modes; (12)VBAT supply for RTC and backup registers; (13)Conversion range: 0 to 3.6 V; (14)Sample and hold capability; (15)Temperature sensor; (16)up to 2 MSPS in interleaved mode.
Diagrams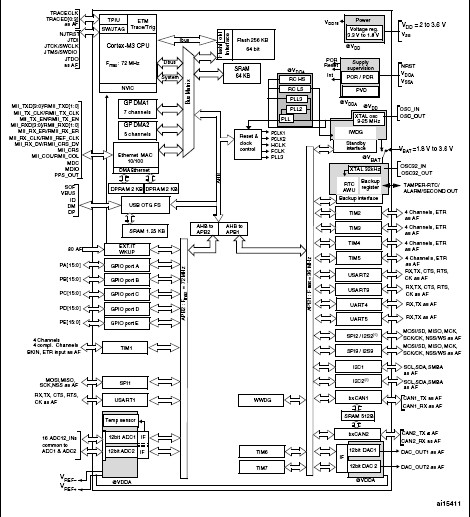 Image
Part No
Mfg
Description
Pricing
(USD)
Quantity

STM32F105R8T6

STMicroelectronics

ARM Microcontrollers (MCU) 32BIT Cortex 64/25 CONNECTIVITY LINE M3

Data Sheet



| | |
| --- | --- |
| 0-1: | $3.86 |
| 1-10: | $3.43 |
| 10-100: | $2.81 |
| 100-250: | $2.62 |

Image
Part No
Mfg
Description
Pricing
(USD)
Quantity

STM300



MODULE SOC RF TXRX W/8051 MCU

Data Sheet



| | |
| --- | --- |
| 0-1: | $18.38 |
| 1-10: | $17.13 |
| 10-25: | $15.88 |
| 25-100: | $15.40 |


STM300C



MODULE SOC RF TXRX W/8051 MCU

Data Sheet



| | |
| --- | --- |
| 0-1: | $18.38 |
| 1-10: | $17.13 |
| 10-25: | $15.88 |
| 25-100: | $15.40 |


STM320518-EVAL

STMicroelectronics

Development Boards & Kits - ARM STM32F0 Eval Board 32-Bit ARM Cortex M0

Data Sheet



STM32100B-EVAL

STMicroelectronics

Development Boards & Kits - ARM STM32 ARM Value Line Eval Board

Data Sheet



STM32100B-MCKIT

STMicroelectronics

Development Boards & Kits - ARM Motor Control Kit STM32F100 128KB JTAG

Data Sheet



STM32100E-EVAL

STMicroelectronics

Development Boards & Kits - ARM STM32F100 MCU EVAL STLINK/V2 Complete

Data Sheet