Product Summary
The STM32F101ZCT6 is a High-density access line. The STM32F101ZCT6 incorporates the high-performance ARM Cortex-M3 32-bit RISC core operating at a 36 MHz frequency, high-speed embedded memories (Flash memory up to 512 Kbytes and SRAM up to 48 Kbytes), and an extensive range of enhanced I/Os and peripherals connected to two APB buses. The STM32F101ZCT6 offers one 12-bit ADC, four general-purpose 16-bit timers, as well as standard and advanced communication interfaces: up to two I2Cs, three SPIs and five USARTs.
Parametrics
STM32F101ZCT6 absolute maximum ratings: (1)VDD-VSS, External main supply voltage: –0.3 to 4.0 V; (2)VIN, Input voltage on five volt tolerant pin: VSS-0.3 to +5.5 V; (3)VDDx, Variations between different VDD power pins: 50 mV; (4)VSSX-VSS, Variations between all the different ground pins: 50 mV.
Features
STM32F101ZCT6 features: (1)Core: ARM 32-bit Cortex-M3 CPU; (2)Memories: 256 to 512 Kbytes of Flash memory; (3)Clock, reset and supply management; (4)Low power; (5)1 × 12-bit, 1 μs A/D converters; (6)2 × 12-bit D/A converters; (7)DMA: 12-channel DMA controller; (8)Up to 112 fast I/O ports; (9)Debug mode; (10)Up to 9 timers; (11)Up to 10 communication interfaces; (12)CRC calculation unit, 96-bit unique ID; (13)ECOPACK packages.

Diagrams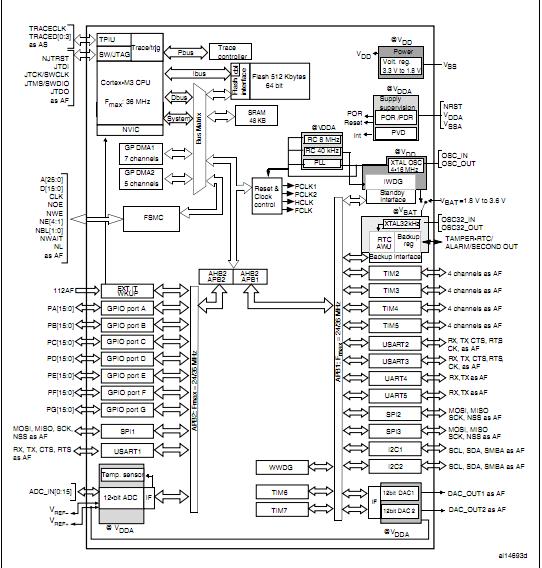 Image
Part No
Mfg
Description
Pricing
(USD)
Quantity

STM32F101ZCT6

STMicroelectronics

ARM Microcontrollers (MCU) 32BIT Cortex M3 H/D ACCESS USB MCU

Data Sheet



| | |
| --- | --- |
| 0-220: | $3.65 |
| 220-250: | $3.40 |
| 250-500: | $3.16 |
| 500-1000: | $2.94 |

Image
Part No
Mfg
Description
Pricing
(USD)
Quantity

STM320518-EVAL

STMicroelectronics

Development Boards & Kits - ARM STM32F0 Eval Board 32-Bit ARM Cortex M0

Data Sheet



STM32100B-MCKIT

STMicroelectronics

Development Boards & Kits - ARM Motor Control Kit STM32F100 128KB JTAG

Data Sheet



STM32103B-D/RAIS

STMicroelectronics

Daughter Cards & OEM Boards 32BIT Cortex M3 RAIS DAUGHTER CARD

Data Sheet



STM32-103STK

Olimex Ltd.

Development Boards & Kits - ARM STARTERKIT BRD FOR STM32F103RBT6

Data Sheet



STM3210B-SK/HIT

STMicroelectronics

Development Boards & Kits - ARM 32BIT Cortex M3 HITEX KIT

Data Sheet



STM3210CPRIMER

STMicroelectronics

Development Boards & Kits - ARM EvoPrimer Platform STM32F107VC 256 KB

Data Sheet