Product Summary
The PESD12VS2UT is a double ESD protection diodes in SOT23 package. The PESD12VS2UT is Designed to protect up to two transmission or data lines from ElectroStatic Discharge (ESD) damage. Applications of the ZXFV4089N8TA include: computers and peripherals, communication systems, audio and video equipment, high speed data lines, parallel ports.
Parametrics
PESD12VS2UT absolute maximum ratings: electrostatic discharge capability: PESD3V3S2UT=30kV; PESD5V2S2UT=30kV; PESD12VS2UT=30kV; PESD15VS2UT=30kV; PESD24VS2UT=23kV; HBM MIL-Std 883 PESDxS2UT series=10kV.
Features
PESD12VS2UT features: (1) Uni-directional ESD protection of up to two lines; (2) Max. peak pulse power: Ppp = 330W at tp = 8/20ms; (3) Low clamping voltage: V(CL)R = 20V at Ipp = 18A; (4) Ultra-low reverse leakage current: IRM < 700nA; (5) ESD protection > 23kV; (6) IEC 61000-4-2; level 4 (ESD) ; (7) IEC 61000-4-5 (surge) ; Ipp = 18A at tp = 8/20ms.
Diagrams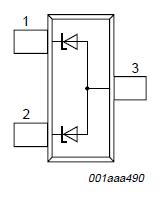 Image
Part No
Mfg
Description
Pricing
(USD)
Quantity

PESD12VS2UT,215

NXP Semiconductors

TVS Diode Arrays 12V DUAL ESD PROTECT

Data Sheet



| | |
| --- | --- |
| 0-1: | $0.06 |
| 1-25: | $0.06 |
| 25-100: | $0.05 |
| 100-250: | $0.05 |

Image
Part No
Mfg
Description
Pricing
(USD)
Quantity

PESD0402-140

TE Connectivity / Raychem

ESD Suppressors SMT 0402 PKG 14VDC PESD PROTECTOR

Data Sheet



| | |
| --- | --- |
| 0-1: | $0.10 |
| 1-10: | $0.10 |
| 10-100: | $0.09 |
| 100-500: | $0.07 |


PESD0603-240

TE Connectivity / Raychem

ESD Suppressors SMT 0603 PKG 24VDC PESD PROTECTOR

Data Sheet



| | |
| --- | --- |
| 0-1: | $0.10 |
| 1-10: | $0.08 |
| 10-100: | $0.08 |
| 100-500: | $0.06 |


PESD1206Q-240

TE Connectivity / Raychem

ESD Suppressors SMT 1206 PKG 24VDC PESD PROTECTOR

Data Sheet



| | |
| --- | --- |
| 0-1: | $0.30 |
| 1-10: | $0.27 |
| 10-100: | $0.25 |
| 100-250: | $0.22 |


PESD12VL2BT,215

NXP Semiconductors

TVS Diode Arrays 12V BIDIRECTIONL ESD DUAL

Data Sheet



| | |
| --- | --- |
| 0-1: | $0.28 |
| 1-25: | $0.21 |
| 25-100: | $0.18 |
| 100-250: | $0.15 |


PESD12VL2BT/S911,2



DIODE DUAL BI ESD PROT SOT23-3

Data Sheet

Negotiable

PESD12VS2UAT,215

NXP Semiconductors

TVS Diode Arrays 12V DUAL ESD PROTECT

Data Sheet



| | |
| --- | --- |
| 0-1: | $0.06 |
| 1-25: | $0.06 |
| 25-100: | $0.05 |
| 100-250: | $0.05 |