Product Summary
The MSP430FE427IPMR is an ultralow-power microcontroller consists of several devices featuring different sets of peripherals targeted for various applications. The architecture, combined with five low-power modes is optimized to achieve extended battery life in portable measurement applications. The MSP430FE427IPMR features a powerful 16-bit RISC CPU, 16-bit registers, and constant generators that contribute to maximum code efficiency.
Parametrics
MSP430FE427IPMR absolute maximum ratings: (1)Voltage applied at VCC to VSS: -0.3 V to 4.1 V; (2)Voltage applied to any pin: -0.3 V to VCC + 0.3 V; (3)Diode current at any device terminal: ±2 mA; (4)Storage temperature, Tstg: (unprogrammed device): -55℃ to 150℃; (5)(programmed device): -40℃ to 85℃.
Features
MSP430FE427IPMR features: (1)Low Supply Voltage Range, 2.7 V to 3.6 V; (2)Ultralow Power Consumption: Active Mode: 400 μA at 1 MHz, 3.0 V; Standby Mode: 1.6 μA; Off Mode (RAM Retention): 0.1 μA; (3)Five Power-Saving Modes; (4)Wake-Up From Standby Mode in Less Than 6 μs; (5)Frequency-Locked Loop, FLL+; (6)16-Bit RISC Architecture, 125-ns Instruction Cycle Time; (7)Embedded Signal Processing for Single-Phase Energy Metering With; (8)Integrated Analog Front-End and Temperature Sensor (ESP430CE1); (9)16-Bit Timer_A With Three Capture/Compare Registers; (10)Integrated LCD Driver for 128 Segments; (11)Serial Communication Interface (USART), Asynchronous UART or Synchronous SPI Selectable by Software.
Diagrams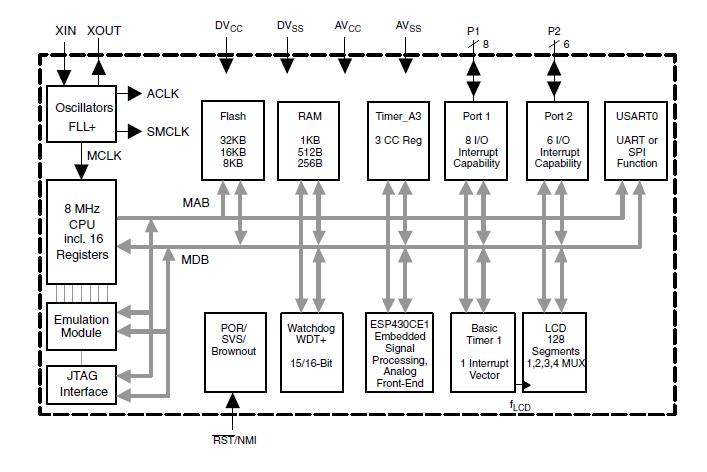 Image
Part No
Mfg
Description
Pricing
(USD)
Quantity

MSP430FE427IPMR

Texas Instruments

16-bit Microcontrollers (MCU) 32KB Flash 1MB RAM for Energy Meters

Data Sheet



| | |
| --- | --- |
| 0-790: | $2.27 |
| 790-1000: | $2.23 |

Image
Part No
Mfg
Description
Pricing
(USD)
Quantity

MSP4120

Other



Data Sheet

Negotiable

MSP4200

Other



Data Sheet

Negotiable

MSP430×11×

Other



Data Sheet

Negotiable

MSP430×11×2

Other



Data Sheet

Negotiable

MSP430×12×2

Other



Data Sheet

Negotiable

MSP430×21×1

Other



Data Sheet

Negotiable