Product Summary
The max4172eua is a low-cost, precision, high-side current-sense amplifier for portable PCs, telephones, and other systems where battery/DC power-line monitoring is critical. Wide bandwidth an ground-sensing capability make the max4172eua suitable for closed-loop battery-charger and general-purpose current-source applications. Applications of the max4172eua include: Portable PCs: Notebooks/Subnotebooks/Palmtops, Battery-Powered/Portable Equipment, Closed-Loop Battery Chargers/Current Sources, Smart-Battery Packs, Portable/Cellular Phones, Portable Test/Measurement Systems and Energy Management Systems.
Parametrics
max4172eua absolute maximum ratings: (1) V+, RS+, RS-, PG: -0.3 to 36V; (2) OUt: -0.3 to (V+ +0.3V) ; (3) Differential Input Voltage, VRS+ - VRS-: ±700mW; (4) Current into Any Pin: ±50mA; (5) Continuous Power Dissipation (TA = +70°C: 471mW (SO (derate 5.88mW/°C above +70°C) ; (6) Storage Temperature Range: -65 to +150°C; (7) Lead Temperature (soldering, 10s) : +300°C; (8) Soldering Temperature (reflow) : +260°C.
Features
max4172eua features: (1) Low-Cost, High-Side Current-Sense Amplifier; (2) ±0.5% Typical Full-Scale Accuracy Over Temperature; (3) 3V to 32V Supply Operation; (4) High Accuracy +2V to +32V Common-Mode Range, Functional Down to 0V, Independent of Supply Voltage; (5) 800kHz Bandwidth [V = 100mV (1C) = 6.25mV (C/16)] 200kHz Bandwidth [VSENSE] ; (6) Available in Space-Saving μMAX and SO Packages.
Diagrams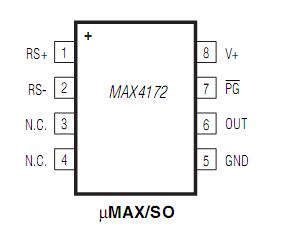 Image
Part No
Mfg
Description
Pricing
(USD)
Quantity

MAX4172EUA-T

Maxim Integrated Products

Current Sense Amplifiers Precision High-Side Current-Sense Amp

Data Sheet



| | |
| --- | --- |
| 0-2090: | $1.04 |
| 2090-2500: | $1.04 |


MAX4172EUA+T

Maxim Integrated Products

Current Sense Amplifiers Precision High-Side Current-Sense Amp

Data Sheet



| | |
| --- | --- |
| 0-2020: | $1.07 |
| 2020-2500: | $1.07 |


MAX4172EUA+

Maxim Integrated Products

Current Sense Amplifiers Precision High-Side Current-Sense Amp

Data Sheet



| | |
| --- | --- |
| 0-1: | $2.45 |
| 1-25: | $1.64 |
| 25-50: | $1.19 |
| 50-100: | $1.18 |


MAX4172EUA

Maxim Integrated Products

Current Sense Amplifiers Precision High-Side Current-Sense Amp

Data Sheet