Product Summary
The MAX3100CEE+ is an universal asynchronous receiver transmitter (UART). The MAX3100CEE+ is the first UART specifically optimized for small microcontroller-based systems. Using an SPI/Microwire. interface for communication with the host microcontroller (μC), the MAX3100CEE+ comes in a compact 16-pin QSOP. The asynchronous I/O is suitable for use in RS-232, RS-485, IR, and opto-isolated data links. The applications of the MAX3100CEE+ include Handheld Instruments, Intelligent Instrumentation, UART in SPI Systems, Small Networks in HVAC or Building Control, Isolated RS-232/RS-485: Directly Drives Opto-Couplers, Low-Cost IR Data Links for Computers/Peripherals.
Parametrics
MAX3100CEE+ absolute maximum ratings: (1)VCC to GND: +6V; (2)Input Voltage to GND (CS, SHDN, X1, CTS, RX, DIN, SCLK): -0.3V to (VCC + 0.3V); (3)Output Voltage to GND (DOUT, RTS, TX, X2): -0.3V to (VCC + 0.3V); (4)IRQ: -0.3V to 6V; (5)TX, RTS Output Current: 100mA; (6)Operating Temperature Ranges: -40℃ to +85℃; (7)Storage Temperature Range: -65℃ to +160℃; (8)Lead Temperature (soldering, 10s): +300℃.
Features
MAX3100CEE+ features: (1)Small TQFN and QSOP Packages Available; (2)Full-Featured UART: IrDA SIR Timing Compatible; 8-Word FIFO Minimizes Processor Overhead at High Data Rates; Up to 230k Baud with a 3.6864MHz Crystal; 9-Bit Address-Recognition Interrupt; Receive Activity Interrupt in Shutdown; (3)SPI/Microwire-Compatible μC Interface; (4)Lowest Power: 150μA Operating Current at 3.3V; 10μA in Shutdown with Receive Interrupt; (5)+2.7V to +5.5V Supply Voltage in Operating Mode; (6)Schmitt-Trigger Inputs for Opto-Couplers; (7)TX and RTS Outputs Sink 25mA for Opto-Couplers.
Diagrams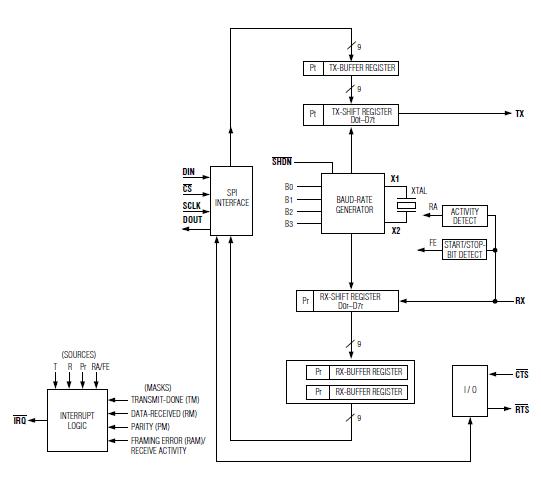 Image
Part No
Mfg
Description
Pricing
(USD)
Quantity

MAX3100CEE+

Maxim Integrated Products

UART Interface IC SPI/uWire Compatible

Data Sheet



| | |
| --- | --- |
| 0-1: | $4.86 |
| 1-25: | $3.26 |
| 25-50: | $2.36 |
| 50-100: | $2.33 |


MAX3100CEE+T

Maxim Integrated Products

UART Interface IC SPI/uWire Compatible

Data Sheet



| | |
| --- | --- |
| 0-1: | $4.45 |
| 1-25: | $2.98 |
| 25-50: | $2.41 |
| 50-250: | $2.36 |