Product Summary
The lm3402hvmm is a monolithic switching regulator designed to deliver constant currents to high power LEDs. The lm3402hvmm is ideal forforautomotive,industrial,and generallighting applications, containing ahigh-side N-channel MOSFET switch with a currentlimit of 735mA(typical)for step-down (Buck) regulator. Applications of the lm3402hvmm include: LED Driver, Constant Current Source, Automotive Lighting, General Illumination and Industrial Lighting.

Parametrics
lm3402hvmm absolute maximum ratings: (1) VIN to GND: -0.3 to 45V; (2) BOOT to GND: -0.3 to 59V; (3) SW to GND: -1.5 to 45V; (4) BOOT to VCC: -0.3 to 45V; (5) BOOT to SW: -0.3 to 14V; (6) RON to GND: -0.3 to 7V; (7) Junction Temperature: 150°C; (8) Storage Temp. Range: -65 to 125°C; (9) ESD Rating: 2kV; (10) Infrared/Convection Reflow (15sec) : 235°C.

Features
lm3402hvmm features: (1) Integrated 1.0A MOSFET; (2) VIN Range 6V to 75V; (3) 1.2A Output Current Over Temperature; (4) Cycle-by-Cycle Current Limit; (5) No Control Loop Compensation Required; (6) Separate PWM Dimming and Low Power Shutdown; (7) Supports all-ceramic output capacitors and capacitor-less output; (8) Thermal shutdown protection; (9) MSOP-8 Package.

Diagrams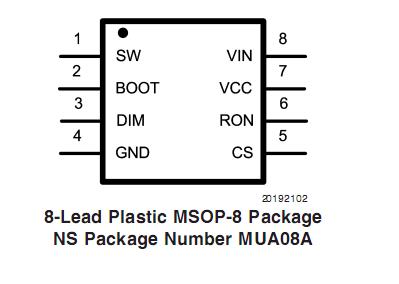 Image
Part No
Mfg
Description
Pricing
(USD)
Quantity

LM3402HVMM

National Semiconductor (TI)

Switching Converters, Regulators & Controllers

Data Sheet



| | |
| --- | --- |
| 0-1000: | $0.98 |
| 1000-3000: | $0.93 |
| 3000-5000: | $0.89 |


LM3402HVMM/NOPB

National Semiconductor (TI)

Switching Converters, Regulators & Controllers

Data Sheet



| | |
| --- | --- |
| 0-1: | $2.20 |
| 1-25: | $1.79 |
| 25-100: | $1.61 |
| 100-250: | $1.46 |


LM3402HVMMX/NOPB

National Semiconductor (TI)

Switching Converters, Regulators & Controllers

Data Sheet



| | |
| --- | --- |
| 0-2650: | $0.93 |
| 2650-3500: | $0.93 |
| 3500-5000: | $0.89 |


LM3402HVMMX

National Semiconductor (TI)

Switching Converters, Regulators & Controllers

Data Sheet



| | |
| --- | --- |
| 0-3500: | $0.93 |
| 3500-7000: | $0.89 |