Product Summary
The LB11961-TLM-H is a single-phase bipolar drive motor driver that easily implements direct PWM motor drive systems with excellent efficiency. The LB11961-TLM-H is optimal for fan motor drive in personal computer power supply systems and CPU cooling fan systems.

Parametrics
LB11961-TLM-H absolute maximum ratings: (1)VCC maximum output voltage VCC max: 18 V; (2)OUT pin maximum output current IOUT max: 1.0 A; (3)OUT pin output voltage VOUT max: 18 V; (4)HB maximum output current IHB max: 10 mA; (5)VTH input pin voltage VTH max: 6 V; (6)RD/FG output pin output voltage VRD/FG max: 18 V; (7)RD/FG output current IRD/FG max 10: mA; (8)Allowable power dissipation Pd max When mounted on a circuit board: 1.1 W; (9)Operating temperature Topr: -30 to +90 °C; (10)Storage temperature Tstg: -55 to +150 °C.
Features
LB11961-TLM-H features: (1)Single-phase full-wave drive (16V, 1.0A transistors are built in); (2)Built-in variable speed function controlled by a thermistor input The LB11961 can implement quiet, low-vibration variable speed control using externally clocked high side transistor direct PWM drive; (3)Built-in regenerative diode (Di); only requires a minimal number of external components; (4)Built-in HB; (5)Minimum speed setting pin (allows full-speed mode operation at startup); (6)Operates in full-speed mode when the thermistor is removed; (7)Built-in lock protection and automatic recovery circuits; (8)FG (speed detection)and RD (lock detection)outputs; (9)Built-in thermal shutdown circuit.
Diagrams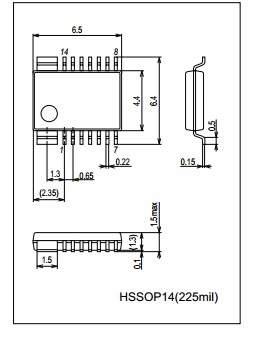 Image
Part No
Mfg
Description
Pricing
(USD)
Quantity

LB11961-TLM-H

ON Semiconductor

Motor / Motion / Ignition Controllers & Drivers BRUSHLESS MOTOR DRIVER

Data Sheet



| | |
| --- | --- |
| 0-1390: | $0.46 |
| 1390-2000: | $0.43 |
| 2000-5000: | $0.41 |
| 5000-10000: | $0.40 |

Image
Part No
Mfg
Description
Pricing
(USD)
Quantity

LB11620GP-TE-L-H

ON Semiconductor

Motor / Motion / Ignition Controllers & Drivers FAN MOTOR DRIVER

Data Sheet



| | |
| --- | --- |
| 0-1440: | $1.16 |
| 1440-2000: | $1.11 |
| 2000-5000: | $1.07 |


LB11620T-TLM-H

ON Semiconductor

Motor / Motion / Ignition Controllers & Drivers FAN MOTOR DRIVER

Data Sheet



| | |
| --- | --- |
| 0-1430: | $0.96 |
| 1430-2000: | $0.91 |
| 2000-5000: | $0.88 |


LB11685AV-TLM-H

ON Semiconductor

Motor / Motion / Ignition Controllers & Drivers ThreePhase Brushless DC Motor Driver IC

Data Sheet



| | |
| --- | --- |
| 0-1: | $2.37 |
| 1-25: | $2.14 |
| 25-100: | $1.94 |
| 100-250: | $1.75 |


LB11685AV-MPB-H

ON Semiconductor

Motor / Motion / Ignition Controllers & Drivers FAN MOTOR DRIVER

Data Sheet



| | |
| --- | --- |
| 0-1: | $2.37 |
| 1-25: | $2.14 |
| 25-100: | $1.94 |
| 100-250: | $1.75 |


LB11693H-TRM-E

ON Semiconductor

Motor / Motion / Ignition Controllers & Drivers

Data Sheet



| | |
| --- | --- |
| 0-1: | $3.86 |
| 1-25: | $3.51 |
| 25-100: | $3.17 |
| 100-250: | $2.91 |


LB11669MC-BH

ON Semiconductor

Motor / Motion / Ignition Controllers & Drivers BRUSHLESS MOTOR DRIVER

Data Sheet



| | |
| --- | --- |
| 0-1860: | $0.44 |
| 1860-2500: | $0.44 |
| 2500-5000: | $0.43 |
| 5000-10000: | $0.41 |