Product Summary
The FT4232HL is an USB 2.0 High Speed (480Mb/s) to UART/MPSSE IC. The FT4232HL is a FTDIs 5th generation of USB device. The device features 4 UARTs. Two of these have an option to independently configure an MPSSE engine. This allows the FT4232HL to operate as two UART/Bit-Bang ports plus two MPSSE engines used to emulate JTAG, SPI, I2C, Bit-bang or other synchronous serial modes.
Parametrics
FT4232HL absolute maximum ratings: (1)Storage Temperature: -65℃ to 150℃; (2)Floor Life (Out of Bag) At Factory Ambient (30℃ / 60% Relative Humidity): 168 Hours; (3)Ambient Operating Temperature (Power Applied): -40℃ to 85℃; (4)MTTF FT4232HL: TBD hours; (5)VCORE Supply Voltage: -0.3 to +2.0 V; (6)VCCIO IO Voltage: -0.3 to +4.0 V; (7)DC Input Voltage – USBDP and USBDM: -0.5 to +3.63 V.

Features
FT4232HL features: (1)Single chip USB to quad serial ports with a variety of configurations; (2)Entire USB protocol handled on the chip. No USB specific firmware programming required; (3)USB 2.0 High Speed (480Mbits/Second) and Full Speed (12Mbits/Second) compatible.

Diagrams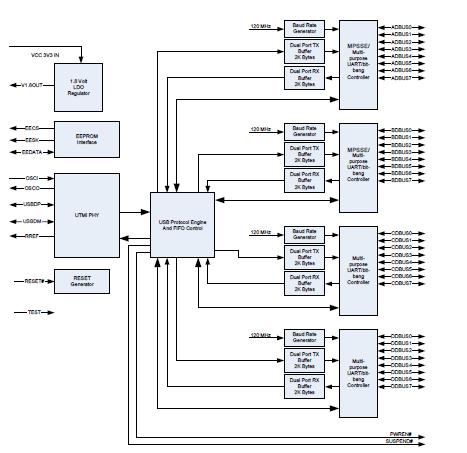 Image
Part No
Mfg
Description
Pricing
(USD)
Quantity

FT4232HL-REEL

FTDI

USB Interface IC USB HS to Quad UART/ SPI/JTAG/I2C LQFP-64

Data Sheet



| | |
| --- | --- |
| 0-1: | $5.75 |
| 1-10: | $5.20 |
| 10-50: | $4.86 |
| 50-100: | $4.10 |


FT4232HL-TRAY

FTDI

USB Interface IC USB HS to Quad UART/ SPI/JTAG/I2C LQFP-64

Data Sheet



| | |
| --- | --- |
| 0-160: | $4.10 |
| 160-320: | $3.65 |
| 320-640: | $3.33 |
| 640-1120: | $2.81 |