Product Summary
The AT-113TR is a voltage Variable Absorptive Attenuator. The AT-113TR is a GaAs MMIC voltage variable absorptive attenuator in a low-cost SOIC 8- lead surface mount plastic package. The AT-113TR is ideally suited for use where linear attenuation fine tuning and very low power consumption are required. Typical applications include radio, cellular, GPS equipment and automatic gain/level control circuits. The AT-113TR is fabricated with a monolithic GaAs MMIC using a mature 1-micron process. The process features full chip passivation for increased performance and reliability.
Parametrics
AT-113TR absolute maximum ratings: (1)Input Power: +21 dBm; (2)Supply Voltage VCC: -1 V < VCC < +8 V; (3)Control Voltage VC: -1 V < VC < VCC + 0.5 V; (4)Operating Temperature: -40℃ to +85℃; (5)Storage Temperature: -65℃ to +150℃.
Features
AT-113TR features: (1)Single Positive Voltage Control: 0 to +3 Volts; (2)40 dB Attenuation Range at 0.9 GHz; (3)±2 dB Linearity from BSL; (4)Low DC Power Consumption; (5)SOIC-8 Plastic Package; (6)Tape and Reel Packaging Available.
Diagrams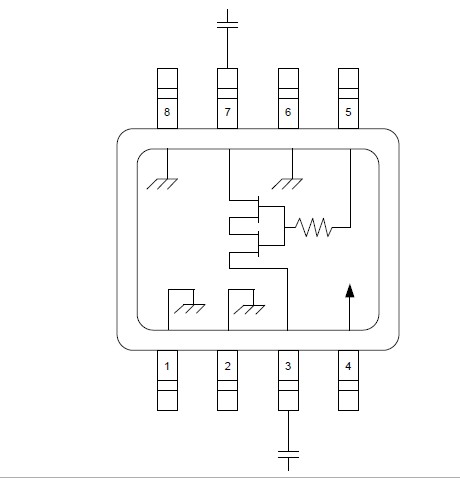 Image
Part No
Mfg
Description
Pricing
(USD)
Quantity

AT-113TR

M/A-COM Technology Solutions

Attenuators (ICs) 500-2000MHz IL 2.7dB Atten. Range 40dB

Data Sheet



| | |
| --- | --- |
| 0-1: | $1.75 |
| 1-10: | $1.46 |
| 10-100: | $1.31 |
| 100-500: | $1.16 |

Image
Part No
Mfg
Description
Pricing
(USD)
Quantity

AT-10

Cooper Bussmann

Fuses BLADE FUSE

Data Sheet



| | |
| --- | --- |
| 0-1: | $0.70 |
| 1-10: | $0.67 |
| 10-100: | $0.64 |
| 100-250: | $0.60 |


AT-101Z

PUI Audio

Speakers & Transducers EM 80dB 2048H 1.5Vpp

Data Sheet

Negotiable

AT-101Z-3



BUZZER MAGN 1.5V 2.048KHZ PCB

Data Sheet

Negotiable

AT-101Z-4



BUZZER MAGN 1.5V 2.048KHZ PCB

Data Sheet

Negotiable

AT-10Z

PUI Audio

Speakers & Transducers EM 85dB 2048H 1.5Vpp

Data Sheet

Negotiable

AT-102A



BUZZER MAGN 1.5V 2.048KHZ PCB

Data Sheet

Negotiable